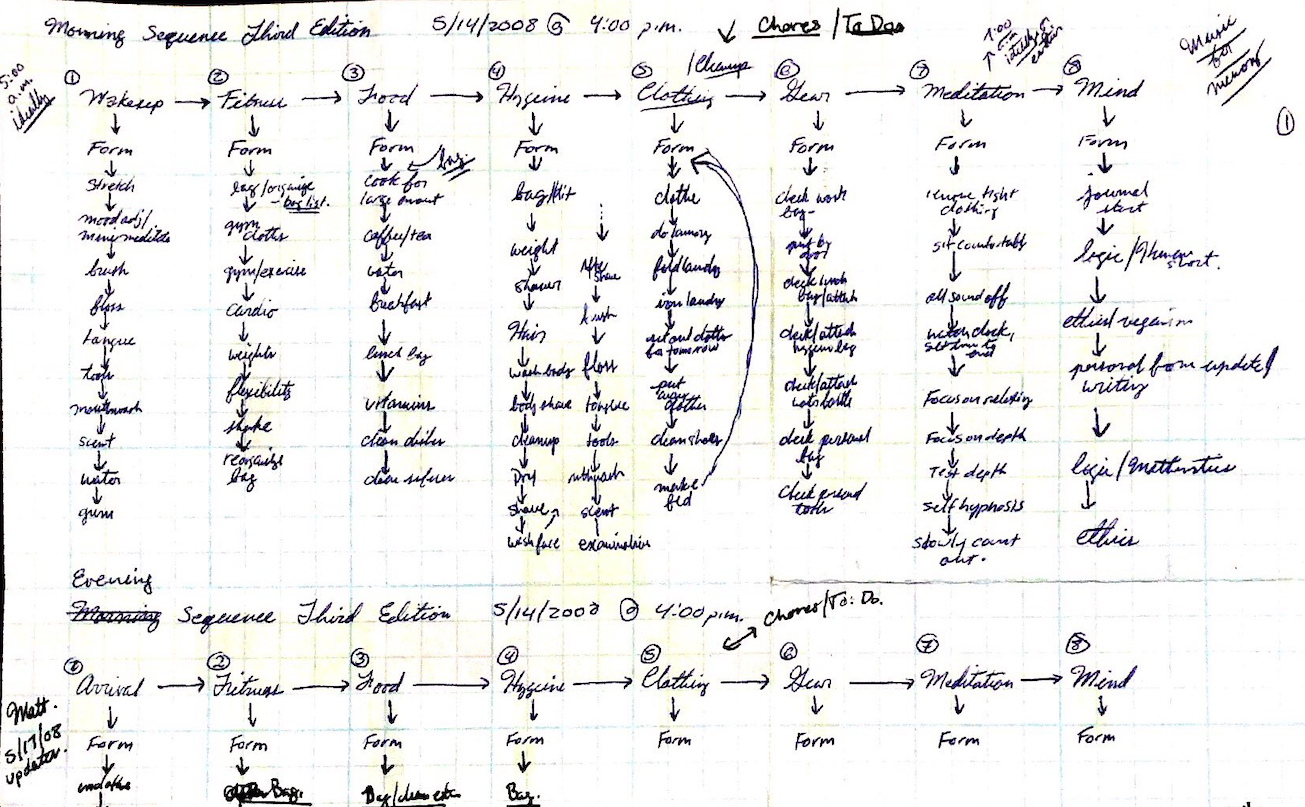 Lists
Christopher Matthew Cavanaugh
Published October 30th 2019
This page contains lists that I consider important, for a variety of reasons.
Each relates to moral philosophy in a number of ways.
Initially there will only be a few lists here, but later this page may be among the most lengthy and useful.
It will be updated very frequently.
Terms and Conditions. Exclusively written, edited (when that happens), and maintained by Christopher Matthew Cavanaugh. All Rights Reserved.
Wednesday, October 30th, 2019, 
Edited Wednesday, October 31st, 2019, 
Edited Saturday, November 16th, 2019, 
Words likely to falsify sentences.
The first and primary objective of a teacher of logic is to rid the world of obvious falsities, in order to move forward to find truths.
People are stuck forever in obvious falsities that they can easily be freed from.
Instantly nearly.
Well, they can see the extent of the issue nearly instantly.
There is a life-long process of trying to fully rid oneself from superstitions and errors.
But the most obvious errors can be cancelled from your life very quickly.
I can't pretend to have practiced myself out of this issue completely, but I am continually improving. The best improvement I ever made was to stop paying any attention to the superstitions and falsities that plague humanity.
The goal of the list below is to help others see what may be rejected without much thought or effort. More importantly, you can reject these ideas and never give any credit to them ever again as potentially true concepts.
I can't list everything I want to include here. The best I can do is add items as they come to mind. If you know others that can be added to this list, simply reject them instantly yourself and add to your own mental-list.
Some readers may disagree with some items listed below. Don't forget that the key point in the lists below is to confidently exclude things from consideration that are almost certainly going to lead you to falsity.
If you have solid grounds for retaining some of the items below (very few), then you can do that and still benefit from the lists.
However, I would suggest you adopt all of the items in each list as terms that would lead you to falsity.
Take a look at the diagram below I wrote on my whiteboard (I highly recommend having a whiteboard to sort things out). This might give some additional clarification of what it is I'm trying to achieve with this basic list.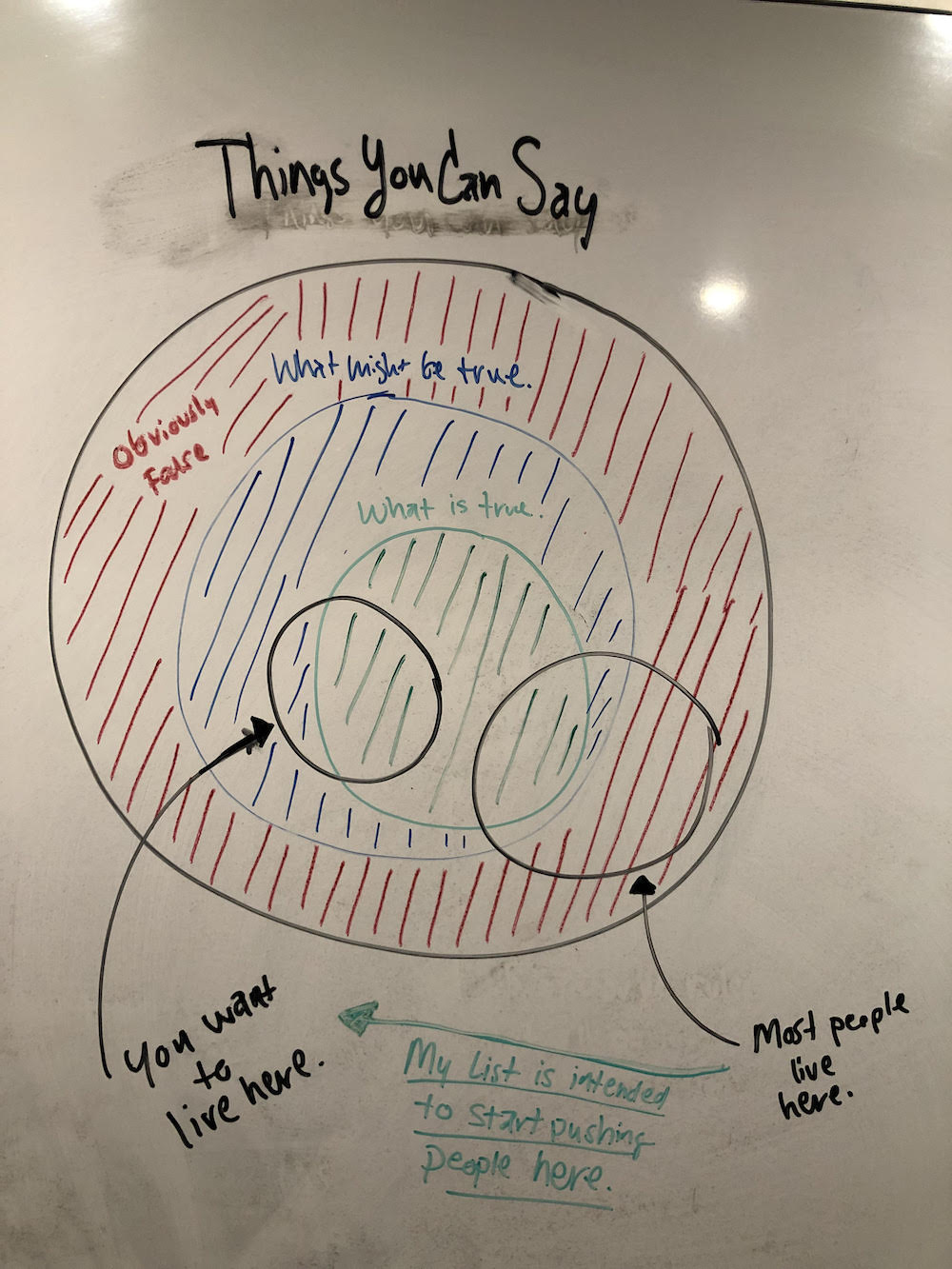 Words and Phrases Likely to Falsify Sentences
Falsification due to inconclusiveness
Amen
"that's the final thought."
"this is the last word."
"Bottom line."
"Period."
[Aside: "The ThoughtStream unto truth will continue."

-Mattanaw]
Interestingly, many of these things come from literature or film.
In other words, we once knew they were false and then later came to believe in them.
Prophet (there wasn't a prophet of anything, unless it is taken to mean "teacher", and in that case, teacher is fine. It is especially false when it is capitalized).

"Isaac Newton was a Prophet" (We can fix this by saying: "he was a teacher").

Alien (at least one that you would expect or have been told about).
Devil
Demon
Hell ("Hell contains __________" would always be false).
Heaven ("Heaven contains _________" would always be false).
Purgatory
Vampire
Conjure, Summon (in a mystical way)
Spell (as in to cast a spell)
Covenant
Answered prayer
Supernatural
Reincarnation
Metempsychosis
Out-of-body experience (believing that one is actually outside one's body).
Life flashes ("My entire life flashed before my eyes" versus "I saw a sequence of memories from my life")
Transubstantiation
Alchemical transmutation
Miraculous
Animation of inanimate objects ("It was brought to life…")
Being "transported"
Curse
Wizard
Witch
Angel
Ghost
Spirit
Saint (Aside from being a worldly honorific).
Benjamin Franklin (if used for something present).
Equality (of complex things taken in total).
Parity ("equality" hiding. Basically claiming complex things are equal in a way that is less forthcoming).
Beings from mythology.
Beings from literature and fiction.
Drinks poured for dead people. (They don't drink it, trust me).
Luck
Exaggerated value of

Ginseng (because it is shaped somewhat like a man).
Garlic
Tumeric
other cure-alls based on single ingredients. (Obviously, illnesses are prevented by some nutrients found in certain foods. Hunger itself is "cured" by food. It is not surprising that shortages lead to issues—vitamin C for example).
(This is not to say they don't have any value, just that the value is not the same as what is purported).

Prophesy (unreasonable predictive power about the distant future)
Possession (demon possession)
Exorcism
Sasquatch
Bigfoot
Yetti
Poltergeist
Haunting ("I'm haunted by ______.")
Falsification due to superstition, arbitrariness, lack of purported meanings
Pentagram
666
13
Friday the 13th
13th floor
7
Luck, fortune. ("I'm lucky. I'm fortunate"). [This one is trickier and requires some explanation that will be provided in an article soon. It's not complete nonsense but we are quickly lead to error with these ideas.]
Lucky 7
Lucky __________? (anything)
Rabbit's foot
Symbolic remedies (Dried, powdered, and other supposedly "medicinal" endangered animal parts).

E.g. Rhino horn will cure you from ____________ (a major incurable illness).
E.g. Dried animal penis or other sexual organs…

Lucky charms
Rainbows
Full moon
Anything else that is an appropriate analogy to these examples.
"Three's a charm"
"Step on a crack…"
Exaggeration, improper placement on a spectrum.
These are the words I like to correct by telling myself "Est-est".
Bigestest, Tallestest, Largestest, etc… to make it sound ridiculous or to otherwise make the exaggeration clear.
Biggest
Tallest
Largest
Fastest
Smallest
Weakest
Greatest
Poorest
Stupidest
Ugliest
Fattest
Strangest
Prettiest
Overgeneralization
These are directly related to the concepts above, because they involve failure to properly measure on a spectrum.
Always
Mostly (this one is more tricky to notice, but usually results in falsehood from what I've observed, when numbers are large).
Every
Everytime
Never
None
All
100%
0%
Precision Failure
Catastrophism without catastrophe
Ruined
Destroyed
Abandoned
False triumphs
First. "He was the first to do [something many have done, or something unverifiable or supernatural]."
Last. "He was the last person on the battlefield." "He was the last prophet."

Alternatively, fans of sports will say "He was the last to be able to do…" because of some change in the sport, to magnify trivial accomplishments.

Statistical or Data Related Factoids, magnified into triumphs.
False heroism.

(We do this when folks have made sacrifices. It is more accurate to recognize the sacrifices).

False villainy to make someone's triumph seem more appealing. I.e. you make your enemy subhuman to glorify your own accomplishments, as in WWII. Dehumanization, caricature.
"Greatest", "Greatest in History", "Greatest in the World", "Greatest of All Time".

without making comparisons or using private criteria, or examining the world, or knowing history, or covering all time.
Especially offensive when it excludes people who are not in a position to be considered.
"Smartest person in the world", as if that person is not impoverished. That person is probably impoverished, at least if we are considering native capability. The smartest person in history is someone who there is no record of, and probably little to no "success". This is a viable argument given probabilities.
Excess certainty, definiteness, definitiveness.
Also related to inability to place on a spectrum (notice the trend concerning the spectrum?).
Definitely
Guaranteed
Absolutely
Certainly
Excess enthusiasm, or estimation of aesthetic quality, or lack of quality
These may feel harsh, but if you look at what you're saying carefully, you'll discover you go straight to these words when the feeling just doesn't justify it.
Amazing
Fantastic
Beautiful
Good
Incredible
Fascinating
Genius
Brilliant
Delicious
I feel better departing from using the terms below, than the ones above.
Hideous
Ugly
Repulsive
Evil
Bad
Disgusting
Gross
Horrible
Horrendous
Idiotic
Moronic
Retarded
Unity, Oneness, and Singularity
This is an error to be watchful for. There are no concepts to completely reject in this list. Instead, there is a tendency to guard against, of creating false oneness in collections of things, or a preference for holistic perspectives such that reductionistic non-holistic perspectives are ignored.
All of the items below are common when rhetoric and persuasion is being used. We tend to enjoy the simplicity of these terms, and we react more emotionally when they are used, versus when we are more specific and accurate.
Unity, united, indivisible, inseparable.

'We are united' when there are detractors, or if it pretends to be all inclusive based on some smaller sample of members, or when it is questionable that there could be any discernible unity among people and objects with many differences to begin with.
"America is United" would always be false, for example for every reason above.

One, oneness.

E.g. 'We are one'. Similar to the above. This is an error of over-generalization and/or oversimplification. It is also used to the effect that the alternative perspective that items can be taken individually is ignored.
"One nation, indivisible, with liberty and justice for all" creates a false sense of oneness, and excess unity.
For example, on Earth Day, people might say that "we are one with the Earth." This can be used in absurd arguments, that forget that while we can think of the Earth as one thing, we can also think of the earth as composed of many individual parts. In philosophy this involves the old problem of "the one and the many" since composite objects can be seen as singular things, but also as complexes of smaller parts making up the whole.

Wholeness, Holism.

When used, again, to indicate that a collection of things is just a single thing, that cannot be better understood in terms of parts that compose "it". Sometimes it is questionable if the "thing" in question is one or more things. This is particularly true in psychology, where we cannot always tell if what we are experienced is really one thing, or a number of things, even though it might be perceived as one thing. Our personal identity itself is something that is questionable here, because we can't tell really if we are one thing or more than one thing, or if our perception at any given time is one perception or a number of perceptions, and so on.

Concepts themselves

implying unity when there might be diversity, and oneness when there might be more than one thing falling under one category inappropriately. This is due to organic and asystematic development of concepts.
Concepts automatically imply a kind of unity and oneness, that is often questionable.
"Love" would be an example. This is an issue with many concepts where distinctions would reveal important differences, without which, would lead to identifying different things as the same. An example of this is the zoological taxonomy system in biology. This is an ongoing issue that must be dealt with as we get better and better knowledge about things, because we begin with few concepts, and later need more to describe important differences.

The, a, it

as used to indicate that there is only one of a certain thing that there might be many of.
"The 12 Rules of Life" as might be found in a book title. This would create the false impression that there is one single set of 12 rules, and no additional rules are necessary. This conceals arbitrariness.

Singular use when a plural is called for.

E.g. "It all happened for a reason" is my usual example. "It all" implies complexity, and complexity often implies numerous causes or reasons for numerous collected and interconnected occurrences. It is much more accurate to say, "These events happened for many reasons". Notice that this is no longer compelling. For some reason, we are emotionally invested in unities and onenesses that don't exist. Once we are more accurate, the statements are less emotionally charged.
Common Linguistic Issues that Lead to Error
Not recognizing a metaphor as a metaphor. Metaphors are not as safe as similes.

Claiming that someone is like something, will probably make it clear that they are not actually that thing.
Claiming that someone is something, metaphorically, will be lost on people oftentimes. Even if it is understood, recollections are altered. Suddenly they are identified with each other.
This is not to say don't use metaphors. It is to say you ought to be aware of dangers of metaphors.
Confusions relating to time
"Eternal", "Endless"

Some might say that any given event is "eternal", yet there is no indication that anything is kept, retained, or permanently recorded in nature. In other words, there is no reason to assume that there is anything that persists for an unending period of time.
There is no example of anything whatsoever that we can confirm to be eternal.
If you care about it, you can almost certainly assume that it will not exist forever; and not the contrary assumption that it will exist forever, because you happen to care about it.
Consider how ridiculous the assumption that everything you dislike will last forever, but that everything you care about will end.
Fiction list.
We cannot have reality-similar elaborate truths concerning fictions, in the same way that we can have them about reality.
Truths about reality expand. The story gets larger. The stories of fictions tend to be stuck in history. They do not grow, unless the author expands upon it, using a mind, that itself holds much less information, than reality itself.
Thus Harry Potter is clearly a fiction, since once the author has completed the work, it is "locked up" in the books.
A new writer could elect to expand on the story, but it is no longer the story. In any case, the same issue occurs. It is locked up in the book after the second author has died, and there are still only two brains involved, which cannot store more information (nowhere close to as much) as reality itself.
Science on the other hand grows and grows because it is simply recording from reality.
We can know that works of fiction are indeed fictional, or that parts are fictional, because they have characteristics more similar to works of fiction, than to works about reality.
We can add items to our list of things we can instantly reject on this basis.
"Heaven" appears to be fictional.

No person can supply additional details beyond what was written, implying that no one has experienced it, and that the writing itself is the source of the invention. This is not the only test but it is a critical test.
What heaven is like, and how long it lasts, in detail. Think of the detail that could be provided about what Canada is like.
It cannot be known that an afterlife would last forever, and no-one could provide any details to indicate what this would be like.

For example, if there were an afterlife, it could be that you would die there too. This must be admitted. However, we would also have to admit, that we made that up. We could provide many alternatives about the duration of heaven, and all would be inventions. They are attempts at fleshing out a very short fiction, whose shortness indicates its nonexistence. Notice how there is little detail about what Heaven is, even though it would be very important, to be able to confirm that it is, what supposedly it is. You can provide nearly endless detail about a photograph of your bedroom you grew up sleeping in, but you can't provide nearly any detail about what heaven is supposed to be, and you could confirm the existence of your bedroom, but you could not confirm the existence of heaven. The key to this is reality-based detail that is not dreamt up.

We cannot have as much detail about heaven as we can about the universe, but heaven is supposedly eternal, while the universe is not. If this does not convince you because the "universe" is too large, simply compare the potential information we have about Earth and what we have about heaven. We have an infinitesimally small amount of information about heaven, because it was written by an author of fiction.

Fictions written from scratch can have details that connect to reality, such that we can make them seem really detailed. But we can never read a piece of fiction, and fill it with the same amount of detail we could provide about a real situation in life, and feel confident that our fiction is actually true.
This means we can not only give up on the ideas of "Heaven" and "Hell" as listed above, but we can verify their falsity by the lack of detail, and our lack of ability to confirm, even if we went to one or the other, that it is what we said it was. For example, Hell and Heaven could potentially transform from one into the other after some period of time, and back again. So you could believe you've entered Heaven and stay there a very long time, then stay in Hell a much longer time. But this is all fantasy, and that's the point. We have no details about what it is, and we can reject it immediately

The Tooth Fairy
Mythological Figures
Religious Supernatural Figures
Literary fictional figures
And so on… this list is very large.
History creates some issues here since older figures might have so few details, that real figures may appear much like mythological figures. At the moment, the solution appears to be to pay less and less attention, as historical things have less detail, and approach in appearance works of fiction. For example, the biography of Charlemagne by Notker the Stammerer can be considered fiction by analogies found in characteristics to other fictions. The biography of Charlemagne by Einhard, however, can be trusted as historical. If the story of Einhard were lost, along with other works about Charlemagne, such that all we have is the life of Charlemagne by Notker the Stammerer, 10,000 years from now, then we have lost Charlemagne, in the same way that we lost Pythagoras. This should not come as a shock. Once all information about a person is lost, they are forgotten. This has happened to nearly everyone in history.

The key criteria here is analogy of properties of the story to fictional accounts versus realistic biographical accounts. Sometimes this can be complex, but usually even children can notice differences between real and fictional accounts. Once I recognized that Santa Clause was not real, the parallels with works of fiction were obvious and there is no reason to give it any consideration as real ever again.

Harry Potter

The author of this book would not want you to believe Harry Potter is real. The intent of the author has importance too, because some will try to "sell" false stories, and this intention of the author can lead to very long false paths, where people have to work hard to finally determine that the stories are more similar to fictions than they are to real accounts.

Santa Clause

Consider how additional details are dreamt up, and the story is locked in history by the original thinkers and marketers who invented it.
Also notice how people try to sell "Santa Clause" as real to children, thus making it more difficult for people to come to realize that it is more like fictional accounts than real accounts.

Based on the Santa Clause example, you should be able to come up with others, since the intent of the author to "sell" a fictionalized or semi-fictionalized account more seriously than Santa, has resulted in people being confused their entire lives. People come to believe in native cosmologies and so forth for their entire lives, so this is not unfamiliar, and anthropologists can give many examples. Anthropologists of the future will list out for us what at present we believe that is totally false, but was confused for truth because people sold it as true. The most convincing false stories were those designed for sale from the very beginning.

Example: The life story of L. Ron Hubbard as presented in his video "An Introduction to Scientology." There is a pamphlet that comes with the video describing feats of his that he did not perform. He is the founder of Scientology, and a writer of fiction. For example, it is claimed he was the first to be deployed at a battle in WWII, and there were other "he was the first" claims that were certainly absurd…